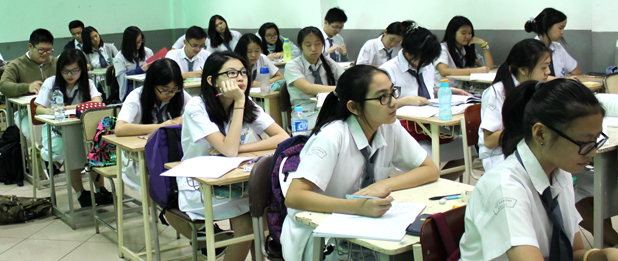 Gandhi School, Ancol is one of the best National Plus/Internasional Schools in Jakarta. Gandhi Ancol, lays stress on English as a language of global importance. Along with the National Exams (UAN), Gandhi offers the Cambridge University 'O' Level and 'A' Level programmes as well as the Board of Secondary Education, Indian Schools – Indonesia's, Matriculation as well as Higher Secondary Certificate for classes 9 – 12.
Our Full English Programme (FEP) covers grade 1 through 12. Since the best way to learn English is to learn in English, our FEP students learn exclusively in English. Our FEP students communicate in English both inside and outside the classroom – an important measure of the programme's success. For the National stream we offer a dual curriculum using both the Cambridge and the Indonesian curriculum. The overall percentage of classes in English throughout the school is 50%.
A continuous assessment of every child's performance is conducted regularly. Children with superior learning ability are encouraged with awards while those with learning differences receive extra attention and guidance. We have an active program of scholastic and extra-curricular competitions in Technology, Design, Sport, Music, Dance, Math, Science, Robotics, Art and Debating. Our students participate in the Jakarta Schools Football League.