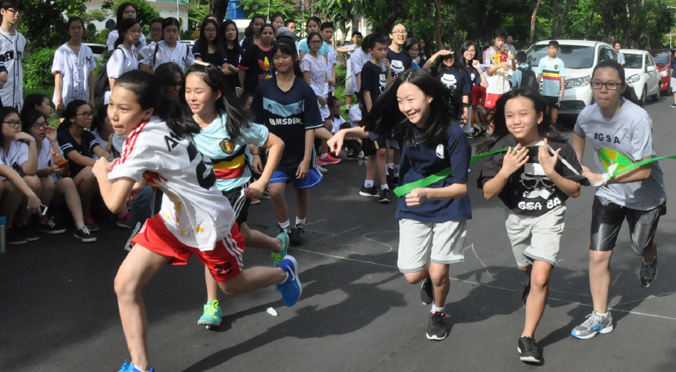 At GSA, this truth forms the core of its curriculum. Here we strongly believe that 'time out' of the everyday routine is paramount to a sound education. Hence, the day, September 23, 2016 – a three day sporting event that the students look forward to every year. On the 23rd, the event was formally inaugurated by Mr. Ely, the principal. In his inaugural speech, he emphasized the importance of physical activity to a healthy mind, body and soul and also the spirit of unity, belongingness and sportsmanship. He stressed on the importance of teamwork and team building together with fun and laughter.
The events began with basketball, followed by futsal and badminton. All events were held at the inter-class level and each class had its own distinctive dress code. Besides team events, there were individual athletic events culminating with the inter class relay. On the second day, non-sporting events like the English, Indonesian and Mandarin karaoke events were held, the judges were treated to some highly professional music that even time stood still to listen to their melodious voices. Other events were the Nintendo and board display.
The only sporting event was Table Tennis. The last day was packed with events like the finals of the basketball tournament, the most sought after 'Best Talent Event', lip-sync combat and the thrilling sack race and tug of war. The purpose of this event is to bring about a better understanding of human potential that lies in each of us, a better understanding of the true spirit of sportsmanship with every win and defeat. That's what
Take care of your body. It is the only place you have to live. 
– Jim Rohn