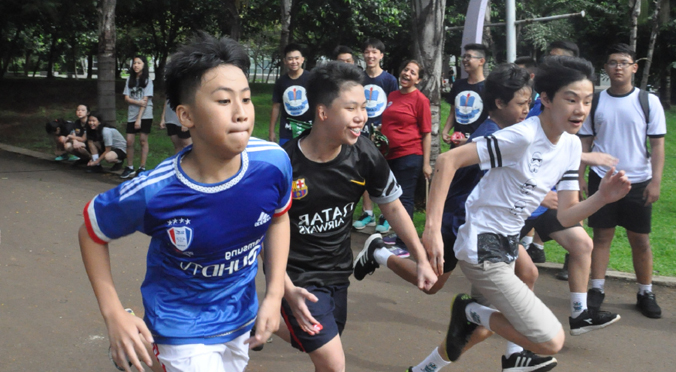 The FEP Cup promised a myriad of strenuous and exciting physical activities for the young and the daring. This is one of the few high adrenaline events that the students at GSA look forward to The scheduled event for this year was on April 17, 18 and 21.Come April 17, the students were excited to go to Cometa in Pluit for the day's events. The sporting event began with the formal inauguration by the section Supervisor with the release of balloons as a sign of the free spirit of sportsmanship.
At Cometa, events like basketball, Futsal and Badminton saw the team competing fiercely yet with a true spirit of the game. The competing teams were from the different classes and this brought forth a strong class spirit among students of the same class.
All the students of a class came together. Their cheers resonated the halls of the complex in unison supporting their classmates. Warm friendships, barriers broken and true harmony were on display. It truly was an education at its highest form. On the 18th, the events were held in the school hall.
The day unfolded with a picture taking session followed by a movie time. Games like the sack relay, paint me a picture and catching the flag were some of the highlights of the day. This was followed by an eagerly awaited sumptuous lunch from HokBen.
The final day on the 21st was the official 'Earth Day'- everyone wore green honouring Mother Earth. The students helped in cleaning their immediate environment around the school and this was soon followed by the scheduled sporting events for the day followed by lunch.
In the afternoon, there were some dance events and finally the three day event concluded with the most awaited awarding ceremony. The Supervisors thanked the senior students who were the event organisers as well as the teachers for their relentless service to make this event a memorable one for all.
FEP CUP, 2016-April 17-21, 2016