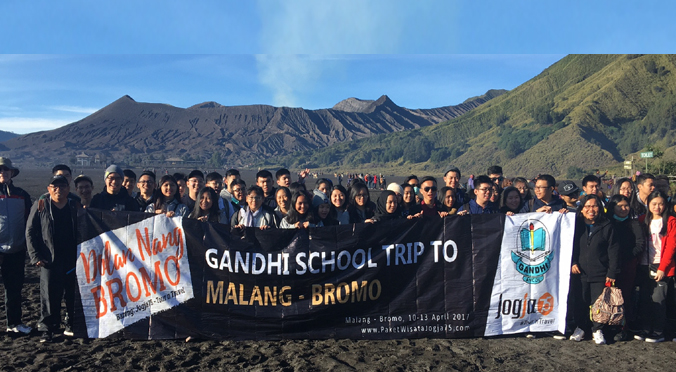 On April 10th, students of grade 10 and 11 embarked on a trip to Malang, East Java. The plane took off at around 10.00a.m. We landed in Abdul Rachman Saleh Airport at 11.30a.m. and immediately took the bus to pick apples in Kota Batu. Since it was already late, we went to Bromo straight away to stay in Hotel Sukapura Permai. The hotel is near Mount Bromo, thus making our journey at dawn shorter and more efficient. We set off to Mount Bromo at 5.00a.m. and each five of us rode in a Jeep to reach the sunrise site.
We waited and watched as the sun rose from the horizon. Once the sun had risen, we first went near the crater where we could ride on horses, then to Savanna Teletubbies next. After we visited all the scenic spots in Mount Bromo, we checked out of Hotel Sukapura Permai and later in the night visited Batu Night Spectacular which is a nighttime amusement park. We stayed in Hotel Zam-Zam for the rest of our stay. On the third day, our first destination was Coban Rondo Waterfall, then we headed to Eco Green Park and Jatim Park 2, next to each other. Eco Green Park provides us with various animals to see while Jatim Park 2 is an amusement park. At last, we reached Museum Angkut where we saw a vintage collection of motor vehicles from all over the world.
We ended our trip to Malang by going to The Bagong Adventure Human Body Museum on the last day. It is a museum in which human body parts get displayed and the people who work there explained to us each of its functions. We departed from Abdul Rachman Saleh Airport at about 3.00p.m. and arrived in Halim  Perdanakusuma Airport around 4.30p.m.
-Alexandra A. Johansyah/ X MIPA 1