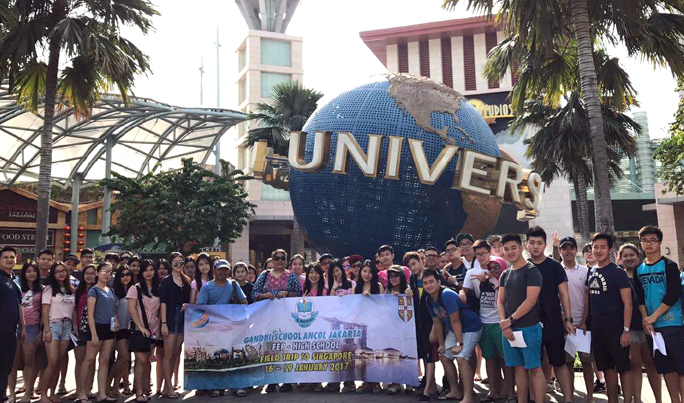 'Time flies' perfectly describes my experience on this year's field trip. Although the trip was for four days, it felt like a day. Waiting for the day to come however, dragged to be a lifetime. Nevertheless, I remember the moment we spent to be as recent as yesterday. On our first day, all of us got beyond elated. Our flight was scheduled to be at 9 in the morning. The only down-side of the plane ride-we didn't have a say on our seat mates.
The minute we stepped on Singaporean land at around 11 A.M., we had a buffet to enjoy lunch together. Thereafter, we spent the afternoon 'swiftshopping' –an act of browsing through shops within a short time limit. Not long after, another meal awaited us for dinner. The Merlion, Singapore's national icon, with a lion's head and the body of a fish is a mustsee sight when visiting the city. Very thoughtful of the tour to have Merlion Park included in our itinerary.
The second day deemed itself to be indelible. To eat a huge breakfast that day would be a grievous mistake as we were scheduled to spend an entire day at Universal Studios Singapore. Having your friends by your side, as you all scream your hearts out in the adrenaline filled rides was a memory to be cherished. We had a free day to tour the whole of Singapore, the following day.
Out of good judgement, my friends and I went sight-seeing – Marina Bay Sands, Orchard road, Chinatown-the whole day until our heels ached. 'It's not about the destination, it's the journey' And finally, the moment I dreaded, came. Even though it was time to say goodbye, all of us didn't regret the trip even for a bit. Singapore has been a spectacular destination but the 'Lion City' cannot compare to the journey we experienced. I hope Gandhi School Ancol continues to hold more of these lovely trips.
Gisella Edny FEP 11, 2017